Dr. Suzanne Campbell
PhD, RN, FCNEI, IBCLC, CCSNE, Professor
Dr. Suzanne Hetzel Campbell's transformational leadership in simulation is characterized by her commitment to being a role model, individualized supports tailored to the unique contexts of the people she mentors, and her ability to nurture innovative simulation approaches with her collaborators. Dr. Campbell's commitment to building capacity in simulation is evidenced by her ongoing leadership in facilitating faculty development workshops, mentoring new and seasoned authors to share their simulation designs in her award winning textbook, and encouraging inter-professional simulations led by nurses. She is advancing interprofessional education, research, and practice by incorporating technical and non-technical skills such as communication, therapeutic relationship, leadership and team-building in her simulation research and international presentations and publications.
University of Rhode Island (URI) Luminary Award (Sept. 30, 2021) Link
Dr. Suzanne Hetzel Campbell has been chosen as a University of Rhode Island College of Nursing Luminary in recognition of the college's 75th Anniversary.
Dr. Campbell is one of 75 College of Nursing Luminaries. Those nominated are alumni, faculty or individuals who have championed advancement of the URI College of Nursing. These individuals have excelled in contributions to professional practice, education, research and/or advancement of the college. Dr. Campbell was selected for her outstanding contribution to the College of Nursing, the profession of nursing, the improvement of nursing practices and her influence on the health and wellness of all the people she has touched throughout her esteemed career. A celebration took place September 30th, to honor Campbell and the 74 other Luminaries. [Website] New President, Dr. Marc Parlange (previous Dean, UBC Faculty of Applied Science 2013-2017) and First-Lady Mary Parlange attended the event. Before earning her Ph.D. in Nursing from the University of Rhode Island, Suzanne earned a B.S. and M.S. in Nursing from the University of Connecticut.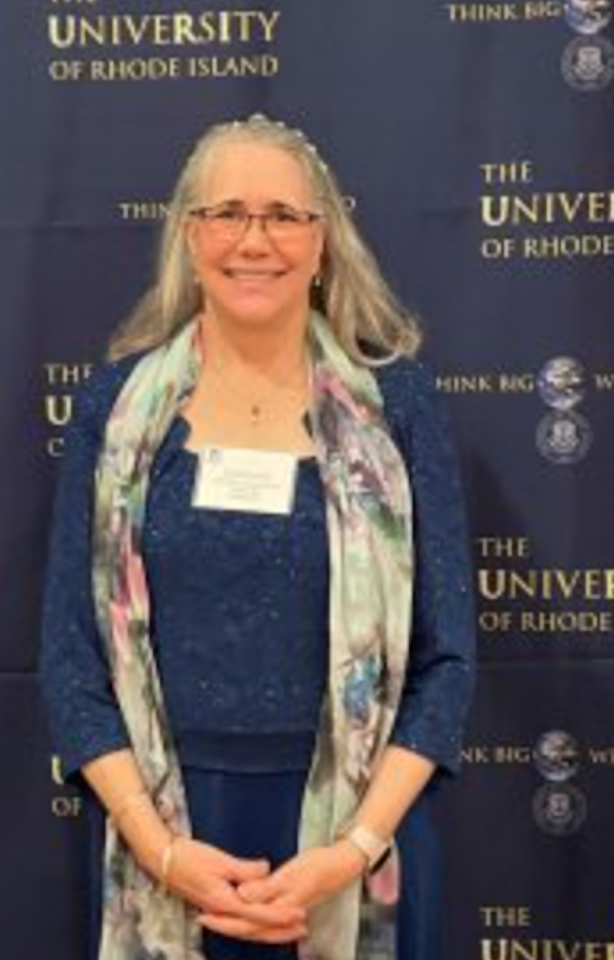 Graduate Supervision
Currie Dissertation: What patient, clinician, institutional, community, socio-cultural and policy factors are associated with the rise in off-label prescribing of domperidone in British Columbia when used to treat low milk supply. [SoN Internal Grant Award, $3,000]
Dhaliwal. Thesis: The theory of planned behaviour and physical activity in pregnancy: exploring the moderating effect of antenatal depressive symptomatology. 
Yan. Thesis: Nurse-led mobilization during the coronavirus pandemic. [UBC SoN Best MS Thesis Award, November 2022]
Sferrazza. Thesis: Undergraduate nursing students' experience in the clinical learning environment since COVID-19 in British Columbia. [UBC SoN Best MS Thesis Award May 2022.]
Choung. Thesis: Real patients as co-debriefers in simulation-based education. Faculty of Education, Simon Fraser University**, Burnaby, BC.
Tharmaratnam. Thesis: Mothers' Perspectives on Using Smart Phones While Breastfeeding. 
Grunert. Thesis: Decision Making Surrounding Human Milk Donation: Attitudes, Subjective Norms, and Barriers. (Internal UBC SoN Funding, Quintessence Foundation: Wah Wong Lactation Support Fund for Pilot of survey) 
Lo. Thesis: Patterns of Action Items in an Electronic Clinical Handover Tool. (Internal UBC SoN Funding) 
Chang. Thesis: Experiences of Chinese immigrant women following zuo yue zi in the lower mainland of British Columbia. 
Deol. Thesis: Gestational Diabetes Mellitus in South Asian Women.
Penrose. Thesis: Perinatal Nursing Strategies To Promote Breastfeeding For Women Who Have A History Of Sexual Violence: A Rapid Evidence Assessment.